Since our founding in 2006 as Outdoor Business Network, XLEcommerce has been a leader at the intersection of the web design, development, and marketing for 10 years. We were the first company in the industry to offer a managed SaaS e-commerce platform for which included integrated inventory management and one click order fulfillment. We have been ahead of the curve since we started, and we still are. Plainly said, we do ecommerce and we do it best!
Our solutions allow you to grow your brand online while working side by side with industry partners in a holistic platform for your business. Alongside with software packages our team has completed many unique projects for our clients, including professional services, brand development, consulting, application development, video production, package design, trade show design, and systems integration. If you can dream it, we can do it! We are passionate about the interaction of companies, brands, people, and technology.
We can take care of all of your technology needs for you. Think of our team as your creative team, technical team, IT team, marketing team, and consulting team all rolled into one. Our goal is to make your business run smoother, increase your sales, and develop a partnership for the future with our clients.
2 billion sales by clients
14 Million daily SupplierLink updates
What we do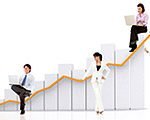 We Build Business
We specialize in ecommerce for the sporting goods and shooting sports industries. We do a bit of everything though. We build ecommerce websites. We build brand websites. We build custom software. We provide cloud hosting solutions. We are a domain name registrar. We integrate accounting, ERP, inventory managment, and shipping software. We have also worked on projects and consulted in the following industries: boating, construction, engineering, insurance, medical, government, events, education, powersports, automotive, and more.

We Make the Internet Work for You
With over 50 years of experience in business management, ecommerce, and marketing, we provide you with the tools you need to make your business grow. In 2015 we added domain name registration and web hosting to our list of products to better serve businesses of all types. We are not just a service provider, we are your business partner.
We are always excited to take on new challenges and opportunities. Join our family and let us help you grow your business.
Why Choose Us?

Reliability, Speed and Security
Our servers are located in Michigan and Arizona. Protected by RFID entry, climate controled, redundant ISPs, and backup generators.

Responsive Design
Our team is always staying on top of the latest developments in web design.

Easy Knowledge Base
We have step by step tutorials on videos on almost every topic you can think of.

Web Tools & Applications
Google Apps, Analytics, Social Media, and more.

Award Winning Support
In 2016 we received the best of Maumee award for Internet Marketing Service.

We get S&@t done!
We will make sure your business is taken care of.
I've used OBN for about 5 years now. They have a great website program. 95% of the work is already done using their program that is linked to a distributor.
- Outdoors Experience -
outdoorsexperience.com
OBN increased our online sales conversion rate, creating a website that is truly a profit center for our business.
- Mike Goschinski -
finfeatherfuroutfitters.com
Site looks great!
- Duane Olive -
olivesonlinestore.com
The team at Outdoor Business Network created my company's customized website. Throughout the entire process, the team provided top notch service and creative ideas, which translated into an excellent final product. Thanks for your help!
- Matt Telmanik -
staffccs.com
I just wanted to take a moment and let you know you and your team did an AWESOME job on designing the framework and layout of my new site!! I appreciate you listening to my guidance on what I wanted from a visual perspective and handling and implanting changes quickly.…
- Jason Schlegel -
hammerstrikefirearms.com